As many of you know I am fanatic and passionate about real music reproduction and always researching and testing different products and combinations to find the very best results for myself and passing this knowledge and know how on to my customers systems.
I have put the AudioWave reference range against as many different brands of automotive amplifiers as possible and nothing comes close let alone bettering them!
Now is the time for a real test a respected domestic hifi brand Electrocompaniet AW2X120-M £3490.00 home amplifier against the entry level AudioWave Aspire car amplifier.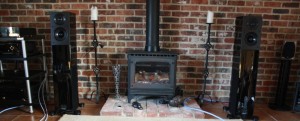 (Below is a brief description of each audible change)
First up was the Electrocompaniet as this was already part of the existing system
Listening to this system was quite decent – Clear, detailed, stable imaging, tonality was good but to me this system lacked musical involvement, insight and resolution a good system this price level should reproduce.
Second up was the AudioWave Aspire
The sound-stage open up to anotherlevel while instruments in the stage played with more space and pace with greater sense of transparency and cymbals became so evident and naturally extended.
(Although this was a great improvement it still did not convince me that this system was enough! Bare in mind I did have the pleasure of the last few hours travelling with the Sonic Vapour system:)
Third up was AudioWave Aspire Pro 
This is where the system shone music became involving and expressive, we were being drawing in to the performance rather than just listening to the music, the system seamed to have a rightness and fullness that was previously been missing before, each singer had sense of body and natural weight behind their voices, instruments had more scale when called for with definition and presence with a greater sense of space, separation and blackness between each instrument and voice
This stage became a lot more holographic with multi layering and overall balance became naturally smoother (but definitely not soft) Everything had gained focus and pinpoint location in the soundstage.
This was starting to show what high-end hifi is about with serious time and dedication of further matching this could become something very special indeed.
Forth up was 2 x AudioWave Aspires (Parallel bridged – one amp on each speaker)
This had greater scale and sheer presence. Musical flow was good while it was immediately evident it lacked the resolution, delicacy and musical involvement the third set up had beautifully achieved.
(Personally I would stick to the third set up and spend some of the remaining cash saved on good music;)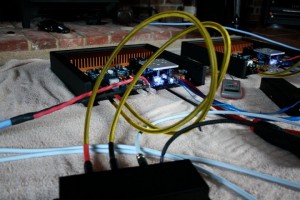 The System:
CD Player: electrocompaniet ECC-1 £1650
Pre Amp: electrocompaniet EC 4.7 £1890
Amplifiers: As tested – Electrocompaniet AW2X120-M £3490.00 / Audio Wave Aspire £1850.00 / Audio Wave Aspire pro £2500.00
Speakers: Audio Physic Virgo 25 LTD £6650
From what I have heard at hifi shows and exhibitions many people would find the first set up good but why settle for good when excellence can easily be achieved with a bit of time and dedication.