This picture shows one of the final cable tests. This is a narrowed down selection of some the best and most musical performers, I have found over the years.
I have been aware for many years that the most costly is not often the best solution, comparing and reviewing all cables back to back throughout the entire cable range from very affordable cables right through to cost no object has been very interesting and worth while.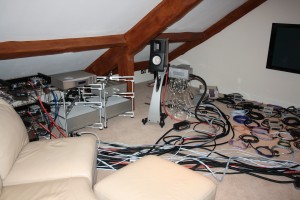 The systems used during these cable tests were varied at different levels, equipment is listed below:
Domestic System 1
Source – dCS Puccini
Clock – dCS Puccini
Pre Amp – David Berning ZOTL Pre One (StillPoints Upgrade)
Amplifiers – David berning Quadrature Z mono blocks ZOTL 200-watt power amplifiers
Domestic System 2
Source – Creek Evolution 2
Amplifiers – Creek Evo 2
DC System 1
CD Transport – Pioneer ODR
DAC –/Processor – Pioneer RS-P99X
Amplifiers – AudioWave CR200 Mono Blocks
DC System 2
CD Players – Clarion HX-D3
Amplifiers – AudioWave Aspire Pro's
DC System 3
CD Players – Pioneer P99RS
Amplifiers – Sinfoni Prestigio
DC system 4
CD Players – Alpine 9887R
Amplifier – Audison voce 5.1K 
Speakers were changed between – AudioPhysic Sitara, Focal Utopia III Diablo, Focal Utopia 3 Scala, Raidho Acoustics C1, C1.1 & Raidho – Eben X-Monitor & Wilmslow Audio Centurion
Rest of the equipment:
HiFi Equipment Racks – Leading Edge platforms, couplers, mini panels & rack, MusicWorks ReVo3, StillPoints component rack & Still Points ESS rack.
Power cables – MusicWorks ReVive & Vertex HiRez Roraima
Power distribution block – MusicWorks ReFlex Ultra

Room Acoustics – Leading Edge micro-perforation acoustic panels 
The experience and final results from many tests like this is all passed into the Synergistically Matched Sonic System range (This is done at absolulty no extra cost to the customer – Demonstrations are welcomed)