Nothing can prepare you for the resolution, musical insight and dynamics in a large holographic soundstage the AudioWave Aspire Pro mono can create.
I have yet to see anyone sit and listen to this system without amazement.
After spending the last few months enjoying and testing lots of equipment with these awesome amplifiers I have had no choice but to purchased a pair of these for myself in my own listening room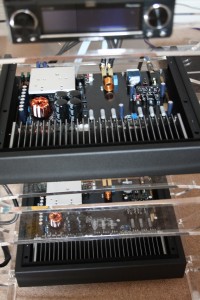 The system
Source – Pioneer ODR RS-D7XIII
Digital cable – Upgraded ODR lead
DAC – Pioneer ODR RS-P90X
Interconnect – MIT Magnum MA
Amplifiers – Audio Wave Aspire pro mono blocks x 2
Speaker cable – Supra Sword 6m
Cable dampers – Music Works ReBound
Speakers – Raidho C1.0 – (Eben C1)
Equipment sitting on the MusicWorks Revo3 table
All equipment above is available from Sonic Frontiers for purchase and for demonstrating.
Feel free to contact Lee if you wish to hear any AudioWave products.
Lee will be more than happy for you to witness this stunning performance for yourself.